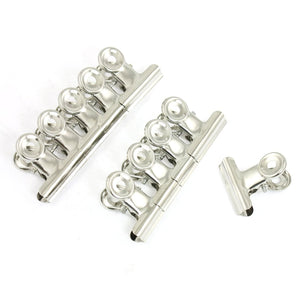 Uxcell Stainless Steel Paper Springy Binder Clips, 10 Pieces
Regular price $19.30 $18.92 Sale
Brand: uxcell
Features:
Product Name : Clip; Material : Stainless Steel
Jaw Capacity : 14mm / 0.55"; Each Size (Approx.) : 30 x 30 x 18mm/ 1.2" x 1.2" x 0.7" (L W T)
Color : Silver Tone
Total Weight : 34g
Package Content : 10 x Binder Clips
Publisher: Dragonmarts Co. Ltd. / Uxcell
Release Date: 31-07-2014
Details: Spring loaded silver tone metal binder clips. Used for temporarily binding sheets of paper together, such as tickets, files, documents, etc. Pegging hole for easy hanging. A kind of useful stationery for home, school or office.
UPC: 608641731286
EAN: 608641731286
Package Dimensions: 5.0 x 2.3 x 0.3 inches
Liquid error (sections/product-template line 203): Could not find asset snippets/spreadr-reviews.liquid