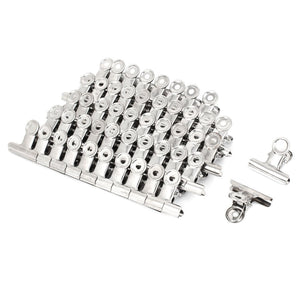 Uxcell Office Paper File Bills Binder Clips, 40cm Width, 50 Piece, Silver Tone
Regular price $0.00 $23.13 Sale
Brand: uxcell
Features:
Product Name : Office Binder Clip Material : Stainless Steel
Each Size (Approx.) : 38 x 40 x 26mm/ 1.5" x 1.6" x 1"(L*W*T)Clamp Width : 40mm/ 1.6"
Max. Open Width : 22mm/ 0.9"Color : Silver Tone
Total Weight : 315g
Package Content : 50x Office Binder Clip
Publisher: Dragonmarts Co. Ltd. / Uxcell
Release Date: 25-06-2015
Details: Spring loaded design binder clips are easy to open and clamp. Provide strong grip, flat surface is not liable to break during holding documents. Has strong friction power to fasten the documents, file, receipt, ticket, paper, etc. Keep them in order and for easy reach.
UPC: 702105857823
EAN: 702105857823
Package Dimensions: 6.4 x 5.3 x 1.7 inches
Liquid error (sections/product-template line 203): Could not find asset snippets/spreadr-reviews.liquid