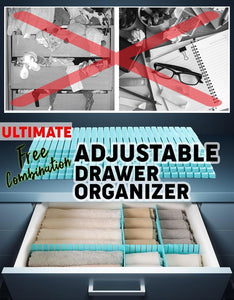 Free Combination Adjustable Drawer Organizer
Regular price $39.99 $14.97 Sale

Turn drawers from a cluttered, balled up mess to an organized and accessible space!


Free Combination Adjustable Drawer Organizer customizes any drawer in a snap to maximize your space & efficiency.


The movable dividers are 100% customizable by easily cutting them for a perfect fit. Ideal for use in drawers in your closet, bathroom, craft room or kitchen.


No more junk drawer & flipping over the drawer to get what you need every time!
FEATURES:
Maximizes the access & visibility of drawer contents
Customized to fit any space with interlocking sides


Completely waterproof, washable & mold-proof

Easy installation

with

no tools

required 


Stays in place with sturdy structure 
Creates holder for toiletry or makeups

Thin construction without taking up extra space
Neatly organizes your closet, kitchen or office
SPECIFICATIONS:
Material: Durable ABS plastic
Size: 32 X 7cm

USAGE:

PACKAGE INCLUDES:
4pcs X Free Combination Adjustable Drawer Organizer

Liquid error (sections/product-template line 203): Could not find asset snippets/spreadr-reviews.liquid