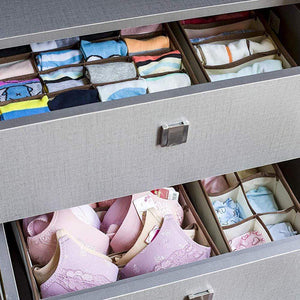 Drawer Organizer Set
Regular price $49.97 $24.97 Sale
Time to say goodbye to messy drawers, FOREVER! 
The Drawer Organizer Set is the perfect drawer organizer. This set of 4 organizer bins comes with 4 different variations of compartment sections that make it possible for you to maintain a neat, orderly and organized chest of drawers. Never struggle to find something in a messy drawer again. These bins work great for keeping your intimates in perfect order! One set of 4 bins includes: 1 bin with 6 compartments for (scarves, ties, etc.) 1 bin with 8 compartments for (panties, briefs, etc.) 1 bin with 7 compartments for (bras, etc.) and 1 bin with 24 compartments for (socks, etc.)
Dimensions: 12" X 6" X 4-1/4"H 
Dimensions: 12" X 12" X 4-1/4"H 
NOT SOLD IN PHYSICAL STORES!
Liquid error (sections/product-template line 203): Could not find asset snippets/spreadr-reviews.liquid