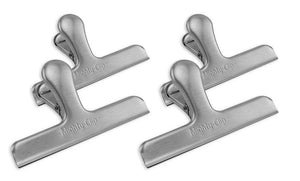 Dimension MightyClip Mega Clip 6" Jumbo Stainless Steel Bag Clips, Set of 4
Regular price $11.52 $11.18 Sale
Brand: Dimension
Features:
As seen on TV
Brushed stainless steel build ensures lasting durability
Includes 4 Mega clips; each measuring 6across
Durable spring action clasp keeps bags Closed and air tight
Replace inexpensive, plastic chip clips forever
This is an aftermarket of generic part
Publisher: Dimension 9
Release Date: 14-05-2016
Details: As seen on TV! this MightyClip set includes four 6 inch mega clips for extra large gripping power. This size is ideal for maintaining freshness in oversized bags of dog food, bird seed and other bulk purchases. Each stainless steel clip provides heavy duty holding power while eliminating the need for troublesome twist-ties or weak plastic clips. They hold up great in the freezer. An excellent way to remain organized, MightyClips are made for kitchen, office, garage, shop, yard, camping, events, parties, boats, cars and more! MightyClips are the last clip you will ever buy. Also check out the MightyClip alligator bag clips with interlocking teeth for an extra tight seal.
UPC: 790507012681
EAN: 790507012681
Package Dimensions: 7.7 x 7.7 x 2.6 inches
Liquid error (sections/product-template line 203): Could not find asset snippets/spreadr-reviews.liquid