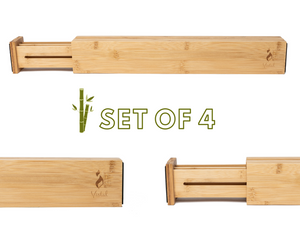 Bamboo Drawer Dividers | Adjustable and Expandable | Set of 4 Drawer Organizers
Regular price $49.95 $26.89 Sale
Our bamboo drawer dividers make an excellent housewarming gift, and they also make a perfect organizing solution in your own home. 
Scenario: You're in the kitchen and ready to craft a culinary masterpiece. You just need your measuring cups, a basting brush, and the chef knife that chops like no other.
But wait ... the ¼ measuring cup is missing.
Your basting brush must be hiding in a drawer next to it somewhere because you can't find it, either.
And where did that knife go?
If you have found yourself in a similar situation, we have the solution.
Our sustainable bamboo drawer dividers offer a simple way to organize smaller items in your home so that you never have to wonder where your essentials are when you need them.
What can you do with these drawer dividers?
Use this set of adjustable dividers to organize your cooking utensils and spices in the kitchen, your socks and underwear in the bedroom, and your makeup and hair supplies in the bathroom. In short, you can use them wherever organization is lacking in the home.
The adjustable length fits drawers from 17 ½ inches to 22 inches. Our dividers are 2 ¾ inches in height.
Our expandable design has a soft non-skid grip on both ends to ensure a secure and sturdy fit.





These drawer dividers provide a useful organization solution for every room of the home. Our organizers can keep drawers, cabinets, and closets neat and tidy. Use them in your kitchen, bathroom, bedroom, kids' rooms, garden shed, and office.




Why are these drawer dividers a good pick for minimalists?
Minimalism is about more than decluttering — It's also about having a well-organized space. Our drawer dividers empower you to simplify any room in the home.
Plus, they are easy to use and install — no tools are necessary.
Tell me about the materials and care instructions.
Made from organic, natural bamboo, our products are eco-friendly and easy to clean. To wash your drawer dividers, simply wipe with warm water (you can use mild soap if you want). Your drawer dividers are designed to last many years.
Liquid error (sections/product-template line 203): Could not find asset snippets/spreadr-reviews.liquid